THINGS YOU MIGHT WANT TO KNOW
TRAVEL INSURANCE
Travel insurance is one of the most important things you'll need for your trip. Italy by Design highly recommends travel insurance protection in the event of a medical emergency, lost baggage, trip interruption or in case you need to cancel your trip beforehand.
ARE MEALS INCLUDED IN THE TRIP COST?
This largely depends on the nature of your tour and any special requirements that you may have.
As a general rule, all hotel breakfasts are included. Occasionally, some of our hotels also provide excellent evening meals on a half-board basis. These are included when and where appropriate. Some meals at our favorite restaurants may also included in the trip cost.
By preference, we eat alla carta but with larger groups, and at the request of the restaurant, fixed menues are served. (We'll ask for any specific food allergies and/or dietary requirements when you sign up for a tour.)
Water is included with group meals but wine and other alcoholic beverages are not.
IS A SINGLE SUPPLEMENT NORMALLY CHARGED?
Yes. Regular "single" rooms in Italian hotels tend to be small in size and to be equipped with narrow single beds. As a result, we prefer to book double rooms for the use of single participants who do not want to share a twin room. Hotel rates do not favour single travellers in this way and our single supplements are intended to guarantee the comfort of all our guests and the equality of everyone's accommodation. The supplement is based entirely on the difference per person in room rates for double rooms for two and for double rooms for single use.
HOW DIFFICULT ARE THE WALKS?
This is a factor that can always be made-to-measure. In general though, our daily walks are very rarely longer than 20 km/12 mi and much shorter in rougher terrain.
The beautiful hill towns of Tuscany are exactly that – on the top of hills! The Amalfi Coast and the Cinque Terre are rugged coastal landscapes but Emilia Romagna, along with much of the Veneto, is almost completely flat. A big surprise awaits in the Dolomites, where a huge advantage is provided by the ski lifts, which come back into operation during the summer months. These whisk you easily up to the high mountain meadows, where gentle rolling walks and incredible scenery await.
WILL I NEED TREKKING POLES?
For our walking and hiking tours, I always carry a set of carbon fibre collapsible walking poles – they provide balance and stability in all types of terrain. Carbon fibre because the poles weigh next to nothing (330 g/12 oz) and collapsible because they fold to an overall length (45 cm/18 in) which makes them extremely easy to pack in checked luggage for air travel. (I strongly advise against attempting to take walking poles as 'carry-on' items, even if they are seemingly securely packed in mailing tubes.)
IS ITALIAN TAP WATER SAFE TO DRINK?
This is a very frequently asked question, to which the simple answer is yes!
Unfortunately, the fad for bottled water creates untold tons of plastic waste per year and, since keeping hydrated is always important during our walking tours, we recommend using a refillable 'sports water bottle' during our trips. (A supply of water is always carried in our support vehicles.)
FREE-TIME & SUPPORT
While most of a tour's daily activities may be pre-planned, we also include free-time for exploration on your own or to dine, if you wish, away from the group. During the trip, however, our support will always be

available

24/7.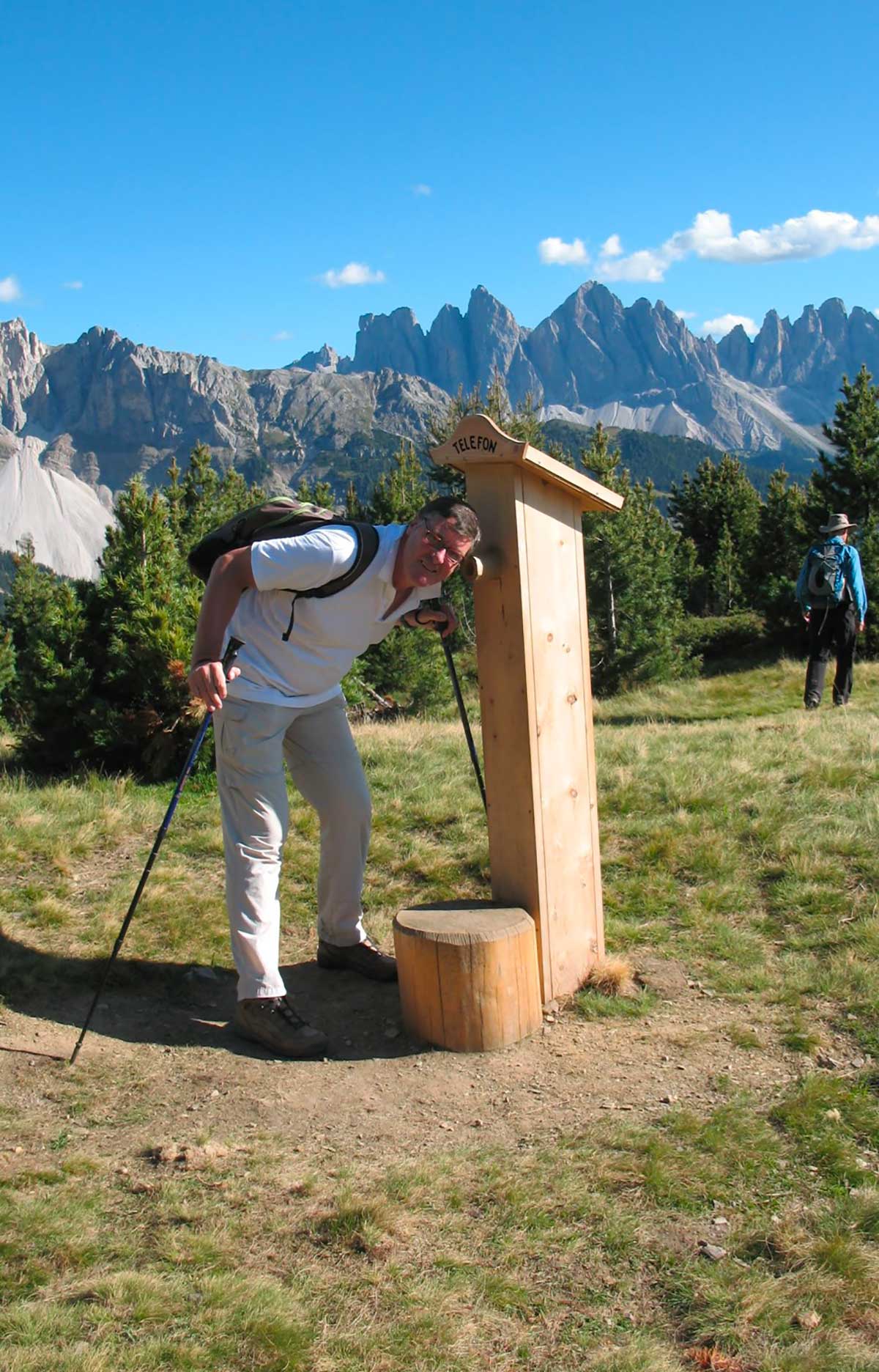 PETER BLACKMAN
Owner, trip organizer and tour leader
My first experience organizing and leading a group tour to Italy was back in 1981, while in the Education Department of the Vancouver Art Gallery, Canada.
I put together and then lead a group of the gallery's volunteer docents (a marvelously dedicated group of people) on a three-week cultural tour of Northern and Central Italy. (I still vividly recall a visit to the incredible Panza Collection in Varese – the collection was still intact back then – and a marvelous performance of Verdi's La Forza del Destino, towards the end of our trip in Rome.)
Since then, I've worked with some of the best adventure tour operators and travel guides in the business, including Butterfield & Robinson, Ciclismo Classico and Fodor's, before starting this, my own, Italy-based company.
I look forward to meeting you and the chance to share my great love for this country and its culture, its people, its language and, of course, its food!
A presto, Peter